Learning to Sew
June 6, 2014 in Tips & Tricks
Hello Totally Stitchin' fans!
Heather here from The Sewing Loft, stopping by for our first Friday visit! Today, I would love to chat about something kinda personal.
Learning to Sew
How did you learn to sew? Did your mother or maybe your Grandmother teach you? Or did you have the option to take an elective class at school? For me it was a combination. You see, my mother sewed at night while I was watching tv and my grandmother sewed on the weekends while I sorted through her button tin. (It was filled with the most amazing treasures!) Then I was lucky enough to have my 1st "official" lesson during a middle school home-ec class. I was hooked!
The reason for my question is that it seems somewhere along the way, sewing has skipped a generation or two. In the past, the art of sewing was something passed down from one generation to another, sort of like those coveted family heirlooms. Well, since school is almost out in my world, I thought it would be fun to share a few ways that we can share our passion and skills with our next generation. That's right, let's keep them engaged and learning something new this summer. Heck, they might even love it!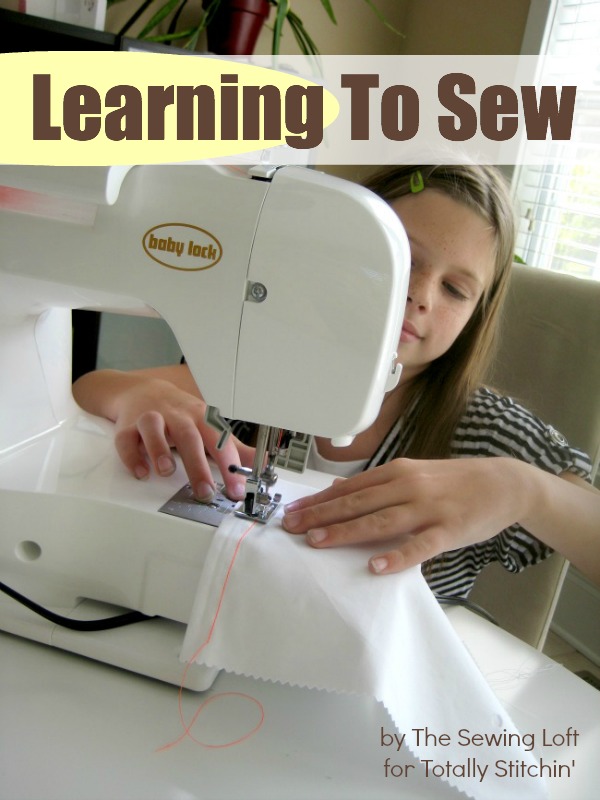 Before we dive right in, I thought it would be best to share a few tips to help keep the process enjoyable for everyone!
~ Bring the pedal to them. That's right, those short little legs might not reach the floor when sitting in a chair. So, grab a foot stool, phone book, whatever it takes to help them get comfortable.
~ Help them get excited before ever sewing the 1st stitch! Let them dig through your thread box and pick out their favorite color. Then walk through the threading process and allow them to try. When I sat down with my youngest daughter I was amazed at how intuitive the process was for her. You never know, they may be a pro!
~ It is extremely important to give a few guidelines on where to and NOT to place your hands when sewing. We do not want to have any "ouchies" during our adventure!
~ Then just put the pedal to the metal and get stitching! Let them be creative. If you see a wonky seam, just breathe! Things do not have to be perfect. The object is to let them get involved and explore the possibilities. Let them dig through your scrap basket and make doll cloths, mini bags, pillows, whatever it takes. Just let them create, have fun and keep the needle moving forward.
Now, let's get to the good stuff! What are we going to sew?
My 1st suggestion is that they practice sewing all of the decorative stitches. Take a lager piece of scrap fabric, fold it in half and let them start stitching away. This will allow them to become familiar with the machine and see all the magic it has to offer.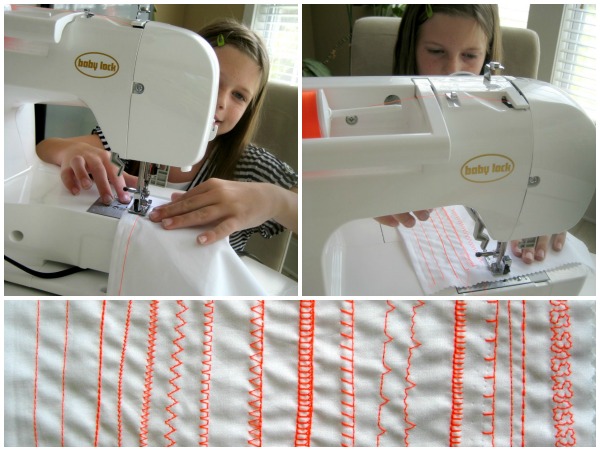 After they are familiar with the basics, I would suggest printing off a few practice sheets. There are so many available on-line for instant download. Or to keep things fun, you could stitch by numbers from any drawing book page. (this is my personal favorite!)
Once they are comfortable, it's time to start stitchin'! Here are a few easy projects to get you started.
Be sure to visit the BabyLock project library for more inspiration.
Introducing a child to sewing and can be an amazing gift. You can see their eyes light up as they watch the thread take shape and transform the fabric in a finished project. Just be sure to help them thread the machine, remind them to keep their hands off to the side and above all have fun!
So, this brings me back to my first question… How did you learn how to sew? Was it your mother, grandmother, school or heck, maybe even YouTube. Please share your story in the comments. I would love to hear all about it!
Thanks so much for having me I'll be back next month for a visit. In the mean time, feel free to stop by and say hello. You can find me:
The Sewing Loft Blog | Facebook | Instagram