Stitchin' Women Update: Patty Young
May 8, 2014 in Stitchin Women
It's been quite awhile since we introduced you to Patty Young from Modkid, so it's about time we do a little catching up! Here's what she's been up to:
Contributor to the SEW FAB Pattern Bundle
Patty has teamed up with 18 other pattern designers to bring you the SEW FAB bundle. This bundle of patterns is on sale for only $29.95 for a limited time, which is less than $1.50 per pattern! The bundle includes patterns for bags, kids accessories, kids clothes, and women's clothing. Such a steal for some really great patterns!
Modkid Summer Fun
Patty also has a new sewing book out called, Modkid Summer Fun. This book debuts Patty's newest collection of vacation outfits and accessories for 18″ dolls. The patterns in the Modkid Summer Fun feature easy to make styles that showcase fashionable details, so your doll can be as cute as the little lady in your life!
New Fabric & Patterns
Patty is a busy lady! She's always working on new patterns and fabric lines, and everything she does is too cute. She recently released a new premium quilting cotton line for Joann's called High Society. The fabric has a turn-of-the-century Victorian era vibe with bright pops of color. High Society plays very nicely into the shabby chic trend that's popular right now!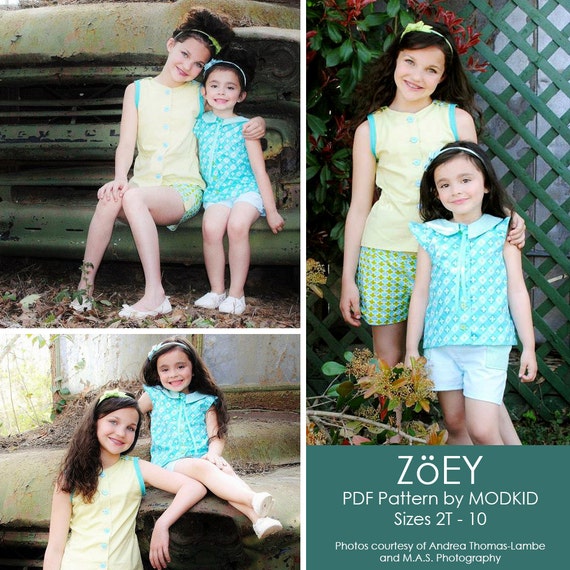 Patty's newest PDF pattern, the Zoey Summer Ensemble, features two types of tops, as well as two types of shorts…perfect additions to a handmade girl's summer wardrobe!
About Patty
Patty along with her husband, Jon, owns and operates MODKID, LLC and serves in the role of Lead Designer. MODKID, LLC specializes in high quality boutique-style sewing patterns which include children's clothes, doll outfits, purses and other assorted accessories and home furnishings. Patty also has 12 fabric collections available through Michael Miller Fabrics. Keep up with Patty on her blog, Facebook, and Twitter!